Facebook is a key marketing platform for the real estate industry and if you are not using it, you should be.  The key to successfully using Facebook for marketing is to post valuable and informative content on a consistent basis.  Facebook also allows you to see how many views and clicks/shares each of your posts get so you know what is resonating with your audience.  Furthermore, you clients can leave reviews which is key today when consumers are so big on social proof.  So what kinds of posts should you be sharing in order to keep your audience coming back for more?  Let's get into that.
Here are 10 real estate post ideas that will keep your followers engaged
and interested.
1. The daily grind
People want to know what is happening in the housing market like what is available and how much homes are selling for.  This is your opportunity to share what you have going on by posting your new listings, homes you have sold, open houses etc. Hopefully you have a website and you can hyperlink your property search page or add an IDX search feature to your Facebook page.  Make sure the images and videos you post are high quality.  If you use real estate email marketing flyers (you should be if you are not) take the opportunity to also post these as they give detailed info about your listings.  Here is a good example of promoting listings.
2. Seasonal tips/area specific advice
You can get creative with this one.  Whether it is offering cheap getaway ideas for the summer or decor tips for Fall, you have a great opportunity to position yourself as a great resource to your followers.  Also give thought to advice you can share with regards to the area you represent.  For example, if you are in an area that experiences hurricanes, you could put together posts having to do with preparation tips, what to do if the electricity goes out, insurance tips etc. This is all information that would be appreciated by your audience.
3. Real estate trends
Realtor associations both national and local are great resources for the latest trends and statistics as well as online real estate news websites. Share the upcoming trends in kitchen and bathrooms as well as the state of mortgage rates.  Any industry information helps people stay informed and you will become their go to source.
 4. The magic of good staging or decorating
As real estate agents, you know how good staging can really make all the difference in getting a home sold.  Take the opportunity to share some before and after staging photos of your properties.  People love to see how they can maybe incorporate something new into their home decor.  It is also a good idea to share decorating tips, diy projects, home improvement tips etc.
 5. Lifestyle photos and videos and posts
You want to have a nice balance between business posts and personal posts.  Now we don't mean personal like gym selfies but it is a smart idea to include posts that have to do with your local market.  This can be local news like restaurant openings or special events.  It is also good to include posts that are related to what makes your area special.  Maybe a nice sunset or images of any cool areas in your city.  People love to see their hometown at its best and potential buyers looking in your area will get a taste of what the town feel is. All this helps boost interest in your market area.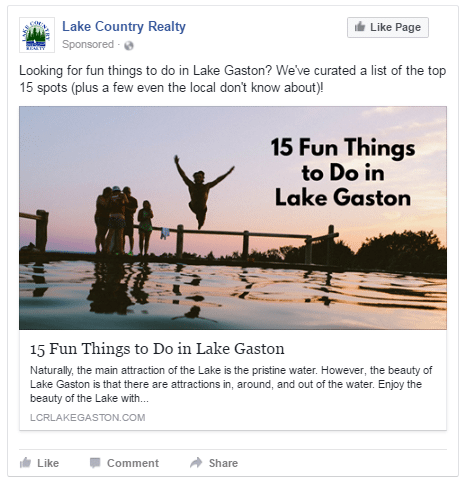 6. Run a poll or ask for advice
This is a great one for getting all kinds of feedback or just for getting to know your audience.  You can ask anything from their ultimate place to live to what they think of your head shot.  The one thing you do not want to get into is anything related to politics or controversial topics.  You don't want to start a feud.  Here is an example of a great poll.
7. Have some real estate fun
You can share any fun personal stories, funny real estate quotes or memes, real estate photos gone bad etc.  People love a good laugh and it helps mix things up on your feed and keep things interesting for your audience.
Conclusion
Facebook is a key platform for real estate agents to market their brand and their listings.  The key is to post valuable and informative content on a consistent basis.  The above ideas will get your creative juices flowing and help keep your audience engaged and boost your brand as well.